I sit here contemplating my Tuesday and you know who I'm sat with. My best friend. My mug of strong Yorkshire Tea. Every day I manage to get through around 5 or 6 cups of the stuff at an absolute minimum. I could bore you with the health benefits of tea drinking, the restorative and recuperative nature of it's leave or the magical sense of ritual when boiling a pot, but I won't. Just 'ave yourself a proper brew and enjoy your day !
In this last week my world online, in cyberspace, social networking and plugging all my digital wares was wholly 100% vindicated and justified when - probably with a solitary click of a mouse by a staff member in an office somewhere - @YorkshireTea followed me on
twitter
! Made my day / week / year !
Growing up I even preferred supporting Yorkshire CCC, instead of the local options of Nottinghamshire or Derbyshire, perhaps in part due to being a Sheffield Wednesday fan, or small part being a fan of Michael Bevan and Gavin Hamilton, or the young Ryan Sidebottom's fabulous name, equally fabulous hair, but probably in the largest part due to their Yorkshire Tea logo stitched to the shirt sleeves ... I was a happy and contented little boy,
playing with LEGO
, drawing flags and watching cricket !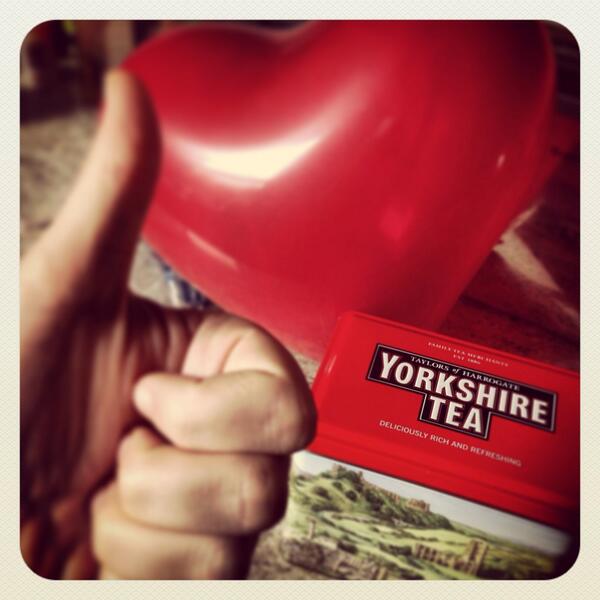 More recently people are becoming more and more aware of my pro-Tea stance, there's even a few bars in Leicester I can go to and get free cups on the house, just at first sight of my face and safe in the knowledge that I won't be ordering a Carlsberg or a Jack Daniels' and Coke. Tea drinking has its ups ... and come to think of it, I can't think of any downs. Keep on slurping people !!
At a wild rock'n'roll party in the not so distant past I regaled the gathered troubadours with tales of fruit, vegetables and tea at 3 in the morning ... producing a holy scripture ... my 'Tea Pyramid' ... it was photographed for posterity and handed down between the ranks. I shall share it with you now, I hope you can make sense of it ... and I hope that if you are a drinker or Earl Grey you are not offended (I'm just that bit to northern to enjoy its perfumed taste) ... and I hope that if you are a drinker of Tesco home brand tea you are offended and you buck your ideas up ... it's not big and it's not clever and you buying that stuff is probably destroying the planet in ways you couldn't possibly imagine ... Spread The Love !
Peace, Love & Tea,
Matt Henshaw
x